Located in Shanghai, Shanghai Worldyang Chemical Co.,Ltd. is a comprehensive chemical enterprise committing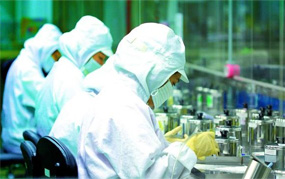 itself to the research, development, production and trade of fluorine chemicals. We have established one R&D center and two manufacturing bases in Zhejiang and Jiangsu province separately; now, we mainly produce all kinds of aromatic fluorides, special fluorides and fluorine surfactants, which are widely used in a number of fields such as pharmaceutical, pesticide, dye, liquid crystal, electronic and battery, etc.
We have established closely cooperative relationships with famous universities and institutions such as SIOC, Zhejiang University and ECUST which are the top three universities in China, and make cooperation with them on the research and development of high-end fine fluorine chemicals.
At the same time, we provide the custom-made services of fluorine chemicals for customers all over the world, and we possess the leading technology of reactions, including halogen exchange fluorination reaction, halogenation reaction, nitration reaction, diazotization reaction, Friedel-Crafts reaction, Grignard reaction and reduction reaction, etc.
As an ISO9001:2008 quality system approved enterprise, we have the good abilities to offer you high quality fluorine chemicals, which are well sold in developed countries such as EU, USA, Japan and Korea, etc.
Sticking to such business philosophy of "quality first, customer first, credit first, creativity first", we sincerely welcome your visit and business, and look forward to cooperating with you for expanding the market of fluorine chemicals together!
By Europe UBM Consulting Co., Ltd. (UBM EMEA) and Chinese medicines and health products import a...

Located in Shanghai, Shanghai Worldyang Chemical Co., Ltd. is a comprehensive chemical enterpris...
Add: Room 1207, Technological Building, 1370 Zhennan road, Putuo district, Shanghai, China
Tel: 0086-21-56795766, 56795797
E-mail: sales@wyfluorine.com